ANTARCTIC EXPLORER: DISCOVERING THE 7th CONTINENT
An 11 Day Cruise aboard Ocean Endeavour (QU)
Zodiac ashore daily and view abundant wildlife: penguins, seals & whales
Explore bays, channels, and landing sites each day
Trek up snowy pathways for panoramic views of the polar landscape
Watch glaciers calve giant icebergs into the sea below
FROM $6695 per person
Day 1 Buenos Aires, Argentina
Upon your arrival in Buenos Aires, transfer independently to the group hotel (pre-night hotel price is part of the additional Buenos Aires flight and transfer package).
Day 2 Fly to Ushuaia | Embark
After breakfast, the group flies to Ushuaia (price of flight is part of the additional Buenos Aires flight and transfer package). Upon arrival, take a short city tour of the quaint port town before heading to the pier. Embark on your Antarctic journey in the afternoon! Sail down the historic Beagle Channel. This famous channel transects the Tierra del Fuego archipelago in the extreme south of South America. Expect an air of anticipation as you depart—the next time you see land you are in the world's most southern continent!
Day 3-4 Drake Passage
2 Breakfasts, 2 Lunches, 2 Dinners
Spend your first days at sea getting to know your shipmates, listening to safety briefings and insights into what excitement lies ahead, and watching for wildlife. Prepare yourself for potentially rough waters, but hope for a smooth sailing as the Drake is unpredictable and always changing.
Day 5-8 South Shetland Islands | Antarctic Peninsula
4 Breakfasts, 4 Lunches, 4 Dinners
When the Antarctic Convergence is left in your wake, you truly begin your Antarctic adventure. It is perhaps the first sight of land itself that is embraced as the true beginning of any Antarctic expedition. You can begin to appreciate why this region has long captivated the attention of explorers and travelers alike.

Take Zodiac excursions from the ship to explore remote bays, channels, and landing sites each day. Wildlife is present all around you as you visit penguin rookeries, scout for humpback and minke whales, and search for a number of the southern seal species.

The majesty of the Peninsula's mountains amaze you as you trek up snowy pathways to vantage points that offer 360° views of your surroundings. One of these incredible sightseeing opportunities, in Orne Harbor, invites you to visit a chinstrap penguin colony high up on a ridge. Here you have a choice between going for a mountain hike or spending time sitting quietly on a pebbled beach to enjoy the antics of the curious penguins.

Every day is different, having been carefully crafted by your expedition team so as to entertain and educate you about this wonderful part of the world.
Day 9-10 Drake Passage to Ushuaia
2 Breakfasts, 2 Lunches, 2 Dinners
The journey back across the Drake Passage provides you with some final opportunities to enjoy the crisp Antarctic air. Spend time on the deck watching for seabirds and scouting for whales, enjoy a few final presentations by your expedition team, or simply relax and reminisce about your experiences.
Day 11 Ushuaia | Disembark | Fly to Buenos Aires
Arrive in Ushuaia after breakfast. After you disembark, take some time to explore Ushuaia before taking the group charter flight back to Buenos Aires (price of flight is part of the additional Buenos Aires flight and transfer package).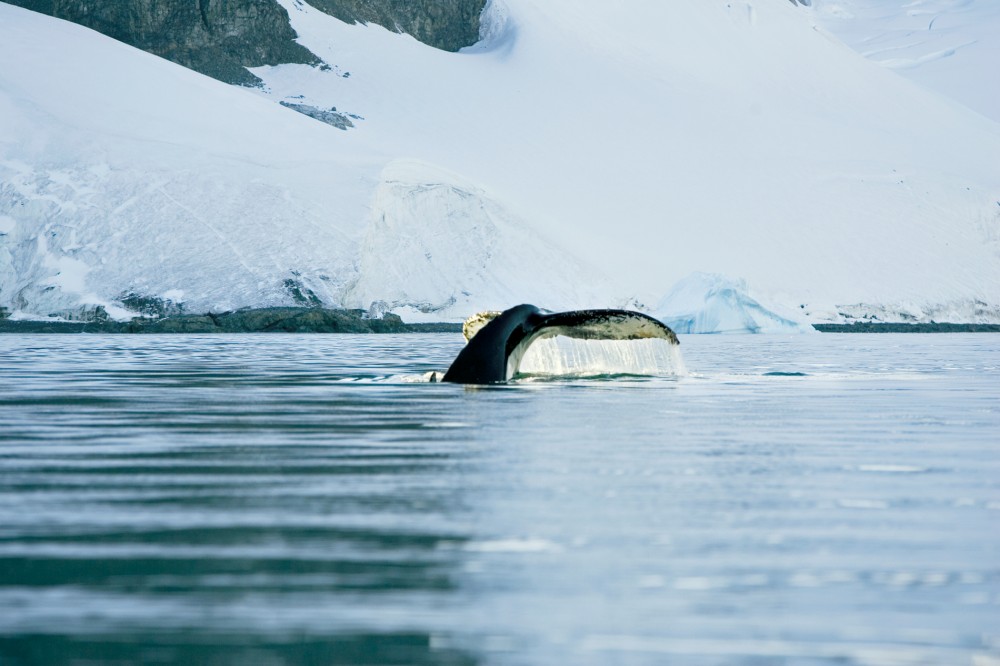 Dates: Nov 5, 2018 / Jan 8, 2019 / Jan 17, 2019 / Feb 9, 2019
STARTING PRICES FOR TRIPLE: $6,695
Accommodation options:
Triple, Twin Porthole, Twin Window, Upper Deck Twin, Twin Porthole Plus, Superior Twin, Single Interior, Top Deck Twin, Twin Window Plus, Junior Suite, Owner's Suite. *Request prices and availability below.
NOTE
Rates are quoted in U.S. dollars and represent costs per person, double occupancy. Request the Twin Share Program where you are matched with a cabin mate of the same gender. Even if a cabin mate is not found for you, no single supplement will be charged.

Cabins are available for single occupancy at 1.7x the double occupancy rate for cabin types except for Premium cabins (2x the double occupany rate).

Mandatory medical insurance: Travelers should have a minimum US$50,000 (or equivalent) of emergency medical coverage prior to embarkation. It is recommended that you and all members of your party have comprehensive travel insurance covering trip cancellation, trip delay (interruption or after departure coverage), baggage, and repatriation.

Important reminder: Embracing the unexpected is part of the legacy – and excitement – of expedition travel. There are no guarantees that everything can be accomplished. A measure of flexibility is something all must bring to a voyage. There are nearly 200 recognized sites in the Antarctic Peninsula and South Shetlands and the places mentioned above may be changed to others equally as interesting.

Important Note:
* Charter flight is not included in the base price of the trip
The Buenos Aires Flight and Transfer Package is $800 (November 2016 to March 2017) and $950 (November 2017 to February 2019), and includes:
• Pre expedition hotel night in Buenos Aires, with breakfast
• Group transfer from the hotel to the airport in Buenos Aires
• Charter flight from Buenos Aires to Ushuaia, and return
• Group transfer from Ushuaia airport to the ship, and return
• Combined airport transfer and express bus tour of Tierra del Fuego National Park after disembarkation

Rates include:
• Shipboard accommodation with daily housekeeping
• All breakfasts, lunches and dinners on board throughout your voyage
• All shore landings per the daily program
• Leadership throughout the voyage by your experienced Expedition Leader, including shore landings and other activities
• All Zodiac transfers and cruising per the daily program
• Formal and informal presentations by your Expedition Team and guest speakers as scheduled
• Photographic Journal on DVD, documenting the voyage
• A pair of waterproof expedition boots on loan for shore landings
• An official parka to keep
• Coffee, tea and cocoa available around the clock
• Hair dryer and bathrobes in every cabin
• Comprehensive pre-departure materials, including a map and an informative Antarctic Reader
• All miscellaneous service taxes and port charges throughout the program
• All luggage handling aboard ship
• Snowshoeing and zodiac cruising
• Emergency evacuation insurance to a maximum benefit of US$100,000 per person for 2017/18 season and US$500,000 per person for 2018/19 season
• Beer and wine during dinner -only for 2018/19 season
• All gratuities -only for 2018/19 season.

This expedition excludes:
• Mandatory transfer package*
• International airfare
• Passport and Visa Expenses
• Government arrival and departure taxes
• Meals ashore
• Baggage, cancellation and medical travel insurance
• Excess baggage charges
• Mandatory waterproof pants for Zodiac cruising, or any other gear not mentioned
• Laundry, bar, beverage and other personal charges
• Shipboard or land telecommunication charges
• Gratuity for ship's crew, Hospitality or Expedition Team members
• Hotel nights prior to embarkation or after disembarkation
• Optional adventure activities
• Arrival transfer in Buenos Aires on day 1.
Please complete the form below